ICC planning to move WTC final out of Lord's | Cricket News
NEW DELHI: As world cricket gets excited to see India take on New Zealand in the inaugural World Test Championship final from June 18, it is learnt that the iconic Lord's cricket ground could miss out on hosting the historic event.
Lord's was slated to host the match when the International Cricket Council (ICC) had first announced the championship. TOI understands that the ongoing pandemic has got the ICC planning for an alternate venue in England for the final.
"The venue will be announced soon. Lord's is not the venue the ICC is planning for. ICC will be advised by the England and Wales Cricket Board (ECB) and its own medical health professionals to decide on the venue for the final. There could be a case of creating a similar bio-secure bubble as the ECB had for the last home summer," an ICC source told TOI.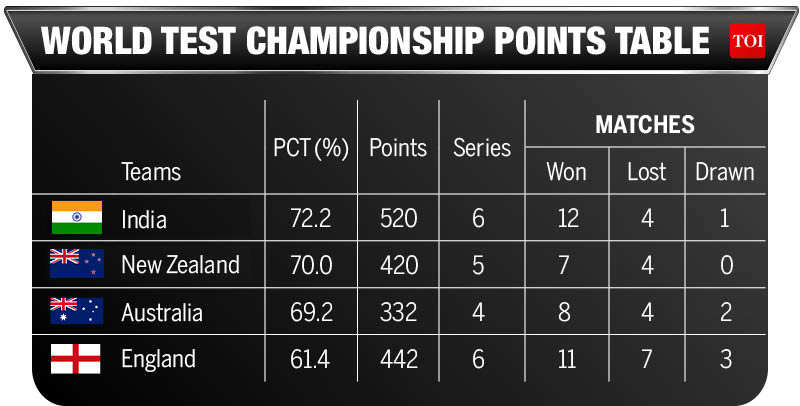 ECB had hosted West Indies, Pakistan and Australia in Southampton and Manchester last summer. The two stadiums have five-star lodging facilities in the premises. Interestingly, the ECB has announced five different venues for India's Test series against England from August this year.
IPL to finish by May 30
It is also learnt that this year's IPL is slated to start on April 9 and finish by May 30. This will give the Indian team a fortnight to prepare for the WTC final in England. Delhi is likely to be included in the list of six venues where the IPL will be played. TOIunderstands that the franchises have been given a tentative schedule for the IPL and the teams have already started planning for playing and setting up base at certain venues.